2009 Elizabeth II 5 pound gold sovereign BU
Product ID:
PRODUCT INFORMATION
The 2009 Gold 5 Pound Coin would have been housed in an original Royal Mint acrylic screw top capsule.

The coin would then be presented in a Royal Mint wooden case, with outer black card box, accompanied with an individually numbered certificate of authenticity (COA).

The gold five pounds piece has a weight of 39.94 grams. The coin is made of solid 22 carat gold (Gold fineness of 0.916).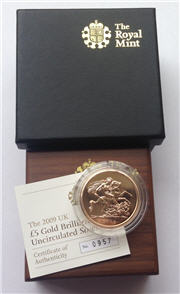 Only 1,000 BU gold five pounds pieces were issued by the Royal Mint in 2010.